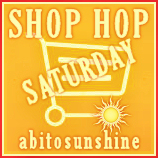 W
elcome to another Shop Hop Saturday post! At Shop Hop Saturday we share our business related blog posts for the week. And help others who have shared their posts by following their blogs, commenting and sharing the ups and downs of online business.
This week's challenge is to promote one product I sell and try to encourage others to purchase the item. I have chosen my very first original doll. I drew up the design myself. I always use other peoples patterns for my dolls, so this has been a big milestone for me to create my own item.
This adorable little bunny stands 12" high.
Her ears and facial features are hand painted. Her body has been lightly stained with a coffee/vanilla/cinnamon mixture. Her dress and bloomers are removable so that she can be dressed for different holidays and occasions. Her bow can be easily removed.
This bunny is a one of a kind doll made by me, Holly Gordon, of Holly's Dollies. As she is the prototype doll for this line, she will be highly collectible.
Polly is dressed in a yellow Easter Print dress, matching bow and white bloomers. The dress, bloomers and bow were not stained. She would be a great addition to your home as an Easter or Prim decoration. I will be offering a line of dresses and outfits for various holidays and seasons for this doll. Watch for her sweetie, Peter, coming down the Bunny Trail.
Polly is currently available at my
Etsy Shoppe
. Please stop by and show her some love. She told me this morning she is lonely, so I will be creating some sisters and brothers for her. Of course, each will be different in it's own way, from staining to facial features.
All dolls are signed by me, Holly's Dollies, and dated with month/year created.
Note: This doll is not meant for a play doll for children. It is only as a decoration piece for adults to love and cuddle and display in their collections.